Counter-UAS Radar
EchoGuard is the market leader for close-range counter-UAS requirements. With comprehensive and easy-to-use APIs, flexible embedded software, and multiple data output options, EchoGuard's precise 3D coordinates and fast update rate can cue EO/IR or other directional sensors for AI or human-based object identification and mitigation response.  
EchoShield is a breakthrough multi-mission, pulse-Doppler radar that unlocks data fidelity for medium range requirements. Offering 0.5° angular accuracy in both azimuth and elevation, EchoShield is designed to shatter the performance barrier for counter-UAS mission sets.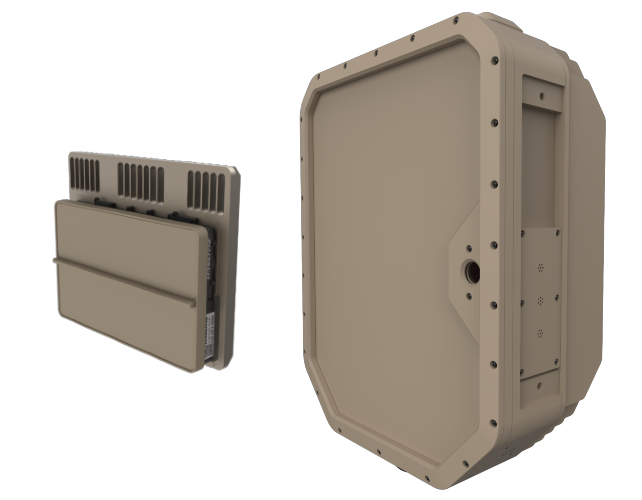 Breakthrough performance at COTS pricing
MESA technology brings advanced ESA radar performance to Counter-UAS missions at commercial-off-the-shelf pricing. 
Search While Track
Continuously searches the configured field of view while simultaneously tracking multiple targets, including swarms. 
Sequential lobing super-resolution
When a target is tracked, EchoGuard revisits the target at up to 10hz for precise airspace coordinates.
Proven. Reliable. Ready to Deploy.
Selected as the radar of choice by dozens of counter-UAS systems providers, Echodyne radars deliver outstanding performance to achieve mission objectives.  
Solution attributes:
Frequency
EchoGuard: 24.45-24.65 GHz (US), 24.05-24.25 GHz (Int'l)
EchoShield: 15.7-16.6 GHz
Field of view
EchoGuard: 120° azimuth x 80° elevation
EchoShield: 130° azimuth x 90° elevation
Angular accuracy
EchoGuard: 1° azimuth x 1° elevation
EchoShield: 0.5° azimuth x 0.5° elevation
Echodyne radar tracking ranges for air targets: