Safety
Reliability
Performance
Advanced Air Mobility (AAM) envisions the lower airspace alive with uncrewed aerial vehicles (UAVs). Over time, new generations of aircraft with novel propulsion systems and vertical takeoff and landing (VTOL) capabilities will move goods and people across communities with greater economic and environmental efficiency.
Two distinct needs will emerge, each based on sensor capabilities that extend onboard or remote pilot capabilities for beyond the visual line of sight (BVLOS) flight. One, small aircraft delivering things from the lifesaving to the trivial. Two, larger aircraft ferrying passengers and delivering cargo. Each will have safety performance requirements that only radar can deliver.
Echodyne airborne radar has key benefits:
Proven and trusted across multiple FAA and NASA UAS programs

Ultra-low SWaP combined with powerful performance

Wide field of view - 2 radars achieve MOPS compliance

Hooks for integration with other sensors (ADS-B)

Low minimum data rate (<35 KB/s)

Deconflicts all airspace movement
For uncrewed aircraft vehicles (UAVs)
Small UAVs are payload sensitive and employ a concept of operations (ConOps) defined by low level flight. Whether onboard radar or ground sensor systems are best is an ongoing industry debate. The answer is probably a mix of both, though ground radar solutions in densely populated areas is likely more economical.
EchoFlight has been rigorously tested and is now relied on by Federal Avionic Administration (FAA) and National Aeronautics and Space Administration (NASA) UAS test centers, academic institutions, and dozens of private UAS manufacturers. Discover if EchoFlight is right for your UAV and ConOps. 
Next-Generation Large UAV Airborne Radar
Larger aircraft will require the capabilities provided by airborne radar, though the exact specifications remain undefined. Echodyne's platform approach to radar design allows ground radars to be adapted for airborne requirements that meet future standards.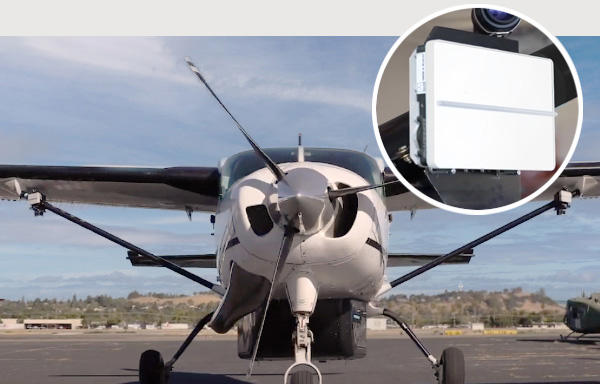 Larger UAVs will need significantly longer range and greater acuity. These systems are much more likely to be incorporated inside aircraft materials. Echodyne's MESA radars are uniquely suited for this mission. We are actively working with some of the leading aircraft designers and AAM operators on an airborne radar that aligns with industry standards, global radionavigation service allocation in the Ku-band, and potential regulations. If your requirements include airborne radar for larger UAVs, we would welcome learning your requirements and timing.